It's back, kids! The Defense of Marriage Act is being reintroduced! From The Carpetbagger Report:
Just this week, a group of Republican senators re-introduced the Federal Marriage Amendment to the Constitution, which, as we know, would ban gay marriage.

And once again, the language is pretty straightforward:

Section 1. This article may be cited as the `Marriage Protection Amendment'.

Section 2. Marriage in the United States shall consist only of the union of a man and a woman. Neither this Constitution, nor the constitution of any State, shall be construed to require that marriage or the legal incidents thereof be conferred upon any union other than the union of a man and a woman.'.

But the funny part is looking over the list of the 10 original sponsors. Most of the names are predictable — Brownback and Inhofe, for example — but there are two others whose names stand out: Sens. David Vitter (R-La.) and Larry Craig (R-Idaho).

Yes, two of the principal sponsors of a constitutional amendment to "protect" marriage include one far-right Republican who hired prostitutes and another far-right Republican who was arrested for soliciting gay sex an airport men's room.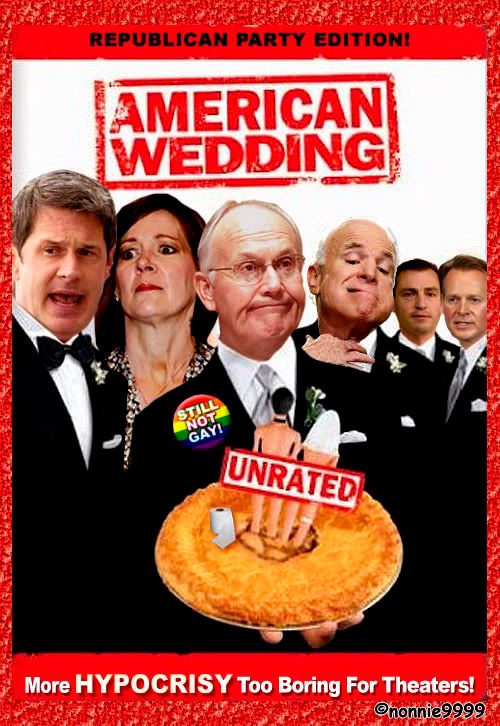 Original DVD cover.
(From left to right: David Vitter, Wendy Vitter, Larry Craig, Captain Underpants, Vito Fossella, David Dreier)

Here's the list of the sponsors in the Senate (from THOMAS at the Library of Congress):
S.J.RES.43
Title: A joint resolution proposing an amendment to the Constitution of the United States relating to marriage.
Sponsor: Sen Wicker, Roger F. [MS] (introduced 6/25/2008) Cosponsors (9)
Latest Major Action: 6/25/2008 Referred to Senate committee. Status: Read twice and referred to the Committee on the Judiciary. COSPONSORS(9), ALPHABETICAL [followed by Cosponsors withdrawn]: (Sort: by date)

Sen Allard, Wayne [CO] – 6/25/2008
Sen Brownback, Sam [KS] – 6/25/2008
Sen Craig, Larry E. [ID] – 6/25/2008
Sen Enzi, Michael B. [WY] – 6/26/2008
Sen Inhofe, James M. [OK] – 6/25/2008
Sen Roberts, Pat [KS] – 6/25/2008
Sen Shelby, Richard C. [AL] – 6/25/2008
Sen Thune, John [SD] – 6/25/2008
Sen Vitter, David [LA] – 6/25/2008
From the Bay Area Reporter:
It's back.

The fringe right is trying yet again to amend the United States Constitution to "save" the nation from same-sex marriage. The Marriage Protection Amendment, HJ Res 89, was introduced in the House on May 22.

…snip…

The lead sponsor is Representative Paul C. Broun (R-Georgia), just about the most junior member of the chamber; he won a special election last July. There are 38 co-sponsors, all Republicans, mainly from safe districts and south of the Mason-Dixon Line. Three notable exceptions are co-sponsors Californians Brian Bilbray, Duncan Hunter, and Gary Miller.

The lead sponsor of earlier incarnations of the amendment, Marilyn Musgrave (R-Colorado) said after the amendment was twice defeated and Democrats regained control of the House that it was useless to pursue the matter further. She is not a co-sponsor of this latest effort.

…snip…

Progressive members of the House announced formation of the LGBT Equality Caucus on June 4. It is chaired by Tammy Baldwin (D-Wisconsin) and Barney Frank (D-Massachusetts), the only two openly gay members of that body.

…snip…

All but two of the initial 52 members of the caucus are Democrats and they often have unofficially functioned as a caucus on these issues for many years.
And on the campaign front, from ABC News:
Michelle Obama addressed the Gay and Lesbian Leadership Council Gala in New York City Thursday night and renewed her husband's promise to repeal federal policies that she says limit the rights of gays and lesbians.

…snip…

D.O.M.A stipulates that states are not required to recognize same sex marriages, even if the marriages are recognized in another state. The law also states that the federal government define marriage as a legal union between a man and a woman.

…snip…

Last week Sen. Obama, D-Ill., told ABC News' Jake Tapper that while he believes marriage is between a man and a woman, "these are decisions that need to be made at a state and local level."

…snip…

Last week McCain reiterated his support for D.O.M.A.

"I voted for the Defense of Marriage Act, which clearly indicated the unique status of a marriage between man and woman," McCain said in Arlington, VA. "I will continue to support that, I will continue to have my position."

Tip of the hat to the lovely and talented Ms. Jenn for pointing me towards the story. Jenn's birthday was yesterday, dear Raisinettes. Wish her a happy belated one!